Invitations in pineapple print, pack of 5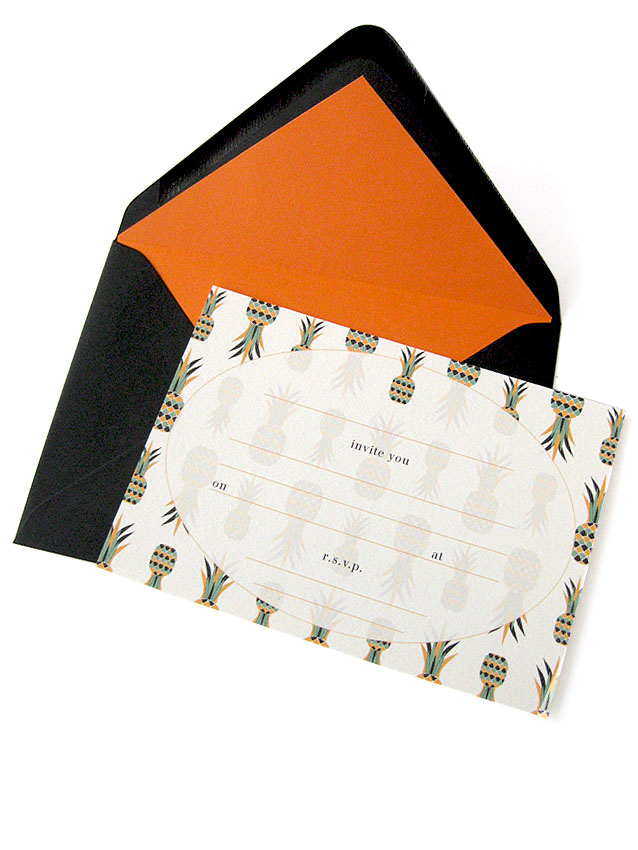 Invitations in pineapple print, pack of 5
A stylish set of 5 handmade ready to write party invitations in ivory card featuring a colourful print of pineapples in black, orange and green. The lettering 'invite you, on, at' and 'rsvp' is in black colour. With printed lines and blank spaces to hand write your personalised wording.
This is one of our pineapple themed stationery designs featuring pineapple fruits. Regarded as the the princess of fruits, pineapples are a luxurious symbol of hospitality and respect towards someone's guests and a unique way to say "welcome to our home".
Matching envelopes for these ready to write party invitations are available in ivory, orange, green and kraft finish. If selected from the menu below, they can be lined in a fine wove paper matching the invitations, in plain ivory, orange, green and black or in a matching print of pineapples. For a luxurious and stylish finish.
These handmade ready to write invitations are in A6 size, flat printed onto ivory wove 300 gms card.
These vintage style invitations and envelopes can be ordered in a pack of 5 and multiple quantities of 5. Presented in a transparent protective sleeve.
Size: 148 x 105 mm
Product code: 1215-IN1-RTW
Gtin: 5060293783283
Buy ready to write and vintage stationery gifts, perfect and original gifts for him and for her.
* For different requirements or variations on this design, please contact us for a bespoke quote.