Personalised invitations in white and gold, pack of 5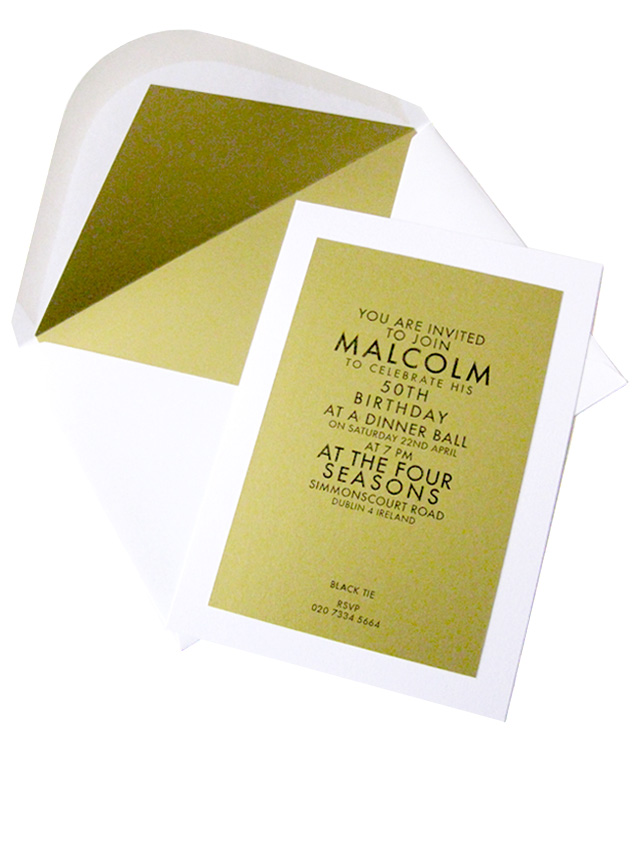 Personalised invitations in white and gold, pack of 5
An elegant set of 5 personalised invitations printed onto 300 gsm frosted gold card which is fixed onto a backing in white card, giving a luxurious thickness to these stylish invitations. The general lettering is in absolute black colour, in Futura typeface.
Matching envelopes for these personalised invitations are available in white and gold. If selected from the menu below, they can be lined in a fine wove paper matching the invitations, in black or metal gold. For a luxurious and stylish finish.
These personalised invitations are in A5 size, flat printed onto luxury 300 gms wove card. Gold card can only be printed in black. Other typefaces and envelopes are available. Wording can be modified according to your preferences.
Available in a pack of 5 and multiple quantities of 5. Presented in a transparent protective sleeve.
Size: A5 210 x 148 mm with C5 envelopes
Product code: 1182-IN4-PS
Gtin: 5060293783061
After receiving your order we will email you an online pdf proof. After your final approval the product will be delivered within 10-12 working days
Buy personalised invitations online from our stationery collections.
* For different requirements or variations on this design, please contact us for a bespoke quote.